The adoption of the online learning education was catalyzed due to the Covid-19 , and has dramatically reshaped the way global education is delivered. According to data released today by the National Center for Education Statistics (NCES), 87% of public schools reported that the COVID-19 pandemic has negatively impacted student socioemotional development during the 2021–22 school year. After having survived the Coronavirus pandemic that had humanity in check, it led us to ask ourselves how we are going to continue living a "normal life", furthermore, how we are going to ensure that our children and young people around the world will continue their academic progress with the least impact, and how adults would also continue to acquire knowledge without attending universities or physical learning spaces. We reacted and saw the importance of having a digital presence. Beyond being present, being sought after, being visible and being chosen.
Google trends shows that the keyword "online learning " has seen a significant increase of search results after pandemic started (see the graphic below)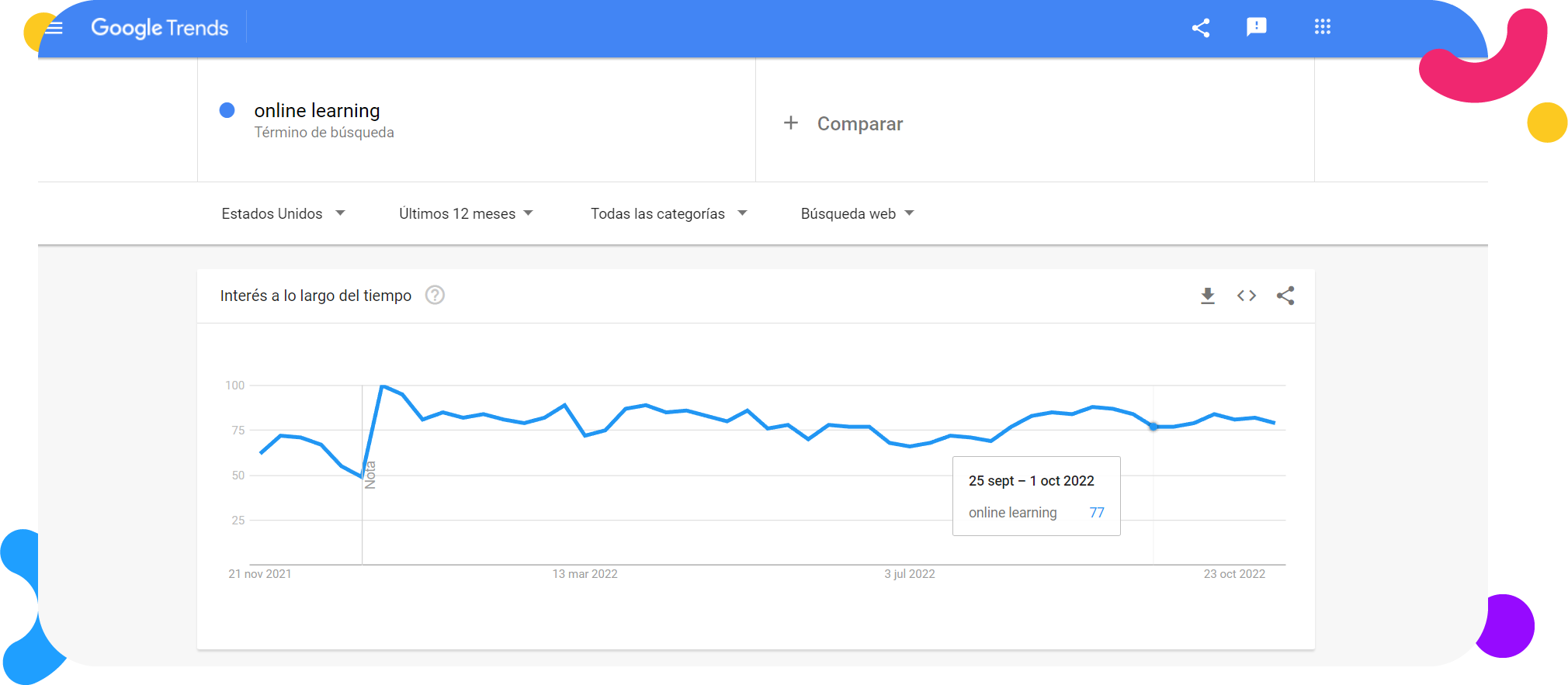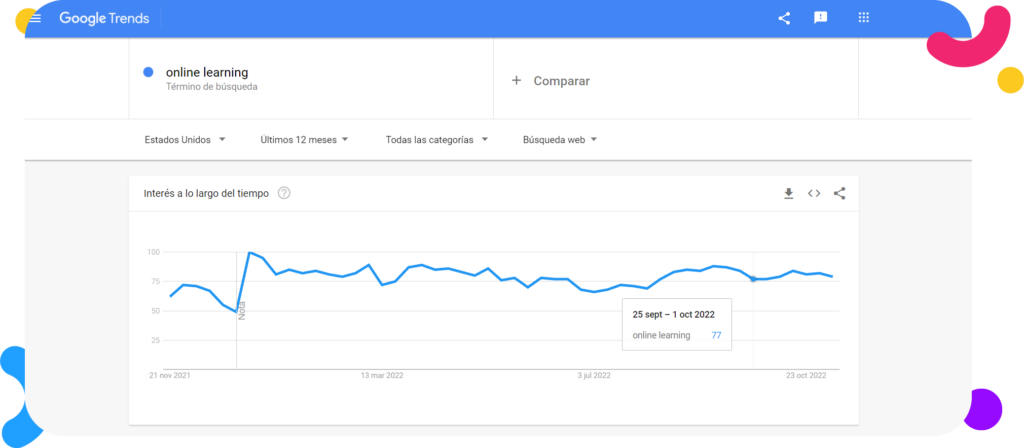 Nowadays, the search of this keyword yields to 165,000 per month, this is why providing access to quality online learning is an important step for the organizations, and in helping people future-proof their skills and seek new opportunities for growth and development. This also means that is a lot of opportunity for people in the E-learning industry to be more proactive and visible by introducing in their priorities an effective Search Engine Optimization (SEO) strategy.
SEO, is a concept which works the same way for e-learning websites as it does for any other, and its main purpose is to implement a set of practices of optimizing an educational website which makes finding information and education accesible to students. SEO Strategies can assist in drawing traffic to your website, by increasing its visibility in search engines. A higher ranking means more applicants and students will get the opportunity to learn about your eLearning platform. This article will present five key benefits of SEO in the eLearning industry. We will also discuss a range of essential tools that can assist you in optimizing your website.
On the other hand, visibility on the Internet is no longer negotiable and this is where there are major challenges. Nowadays It is not enough to create a website or a blog post; You need to consider Google algorithms and target your website pages for keywords , and structure them for Google searches. Thus, it is necessary to maintain and position your content so that it becomes visible. 
We know the importance of this, and that is why at Edunext we have developed our Edunext Control Center product, which is integrated with one of the best Learning Management Systems in the world, powered by Open edX technology. We want to contribute through our work to increase the visibility of online learning initiatives because we believe that education is one of the most valuable topics of modern humanity . Through tools like ours many people are able to learn from any location and at any time, which positively impacts the educational experience.
Therefore, we have developed this article which explain the 4 basic and essential SEO (Search Engine Optimization) strategies and how you can  use them, to increase the visibility and exposure of your  online learning initiative to attract more users  and undoubtedly, to increase search results, and why not, to foster a higher conversion rate. Shall we start? 
SEO (Search Engine Optimization) is a digital marketing technique that aims, through the use of some techniques and strategies inside and outside a website, to achieve organic presence in search engines such as Google, Bing, Yahoo, etc.. Nobody explains it better than Google, that's why we leave you this short video where the process of indexing websites in Google's index is explained:
After understanding why this Digital Marketing practice can help us with our goal of having more visibility on the Internet, let's get into the subject and see the 4 basic SEO positioning strategies: 
1. Analysis and research of keywords associated with your online course content
It all starts with a search. When you are looking for a product or service one of the most common practices is 'Googling'. The following are good examples of keywords: 
– Free online courses

– Virtual English course

– Virtual courses
This task is fundamental before performing any SEO action. You can start by answering the following question: What are those keywords that my target students use when searching for any of the courses I offer? The answer to that question will be your starting point. From there you will start building a list of keywords that will be the compass for the following SEO actions.
We know that this task may not be so easy, however, there are multiple free tools that will allow you to do this search and find the search volume of a keyword within a geographical space and over a period of time. The most powerful tool we have found is Ubersuggest where by simply typing a keyword or the URL of a web page and selecting the country you want to analyze, you will have a list of keyword suggestions related to what you searched for.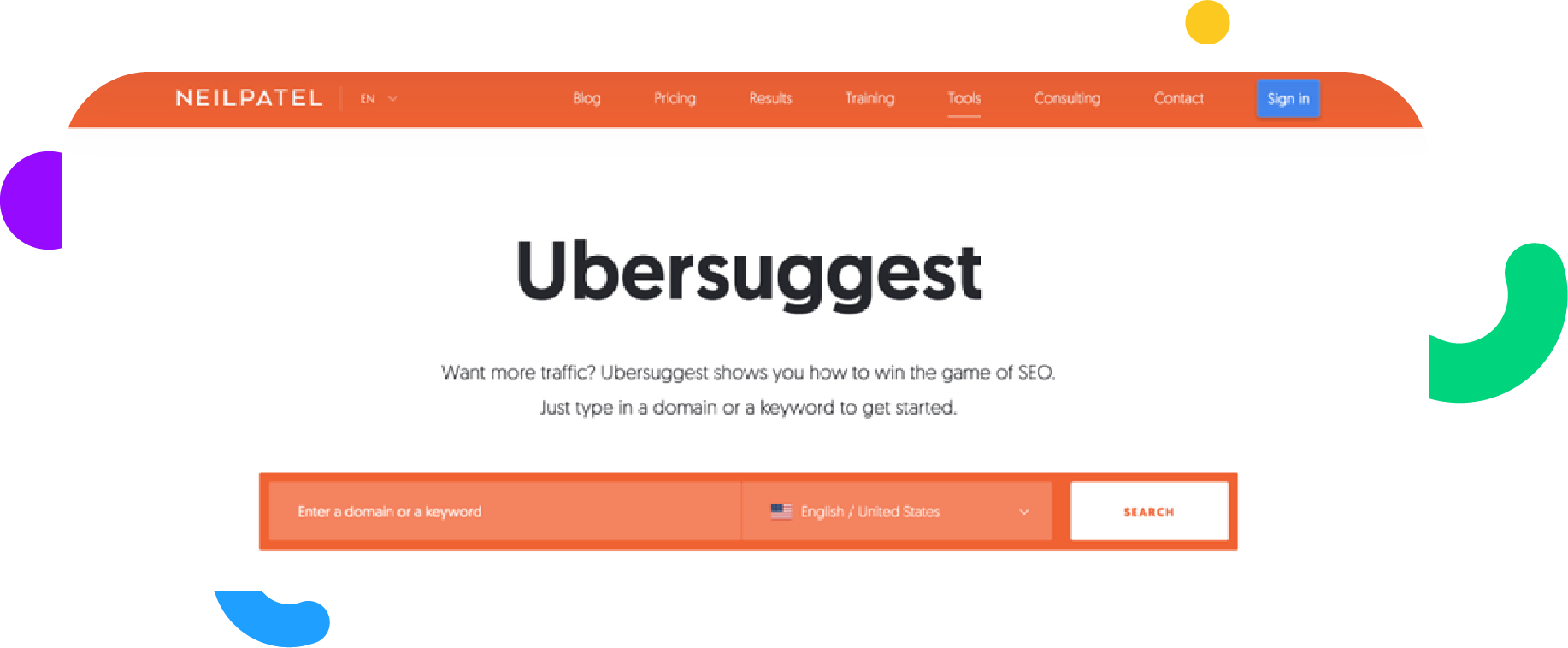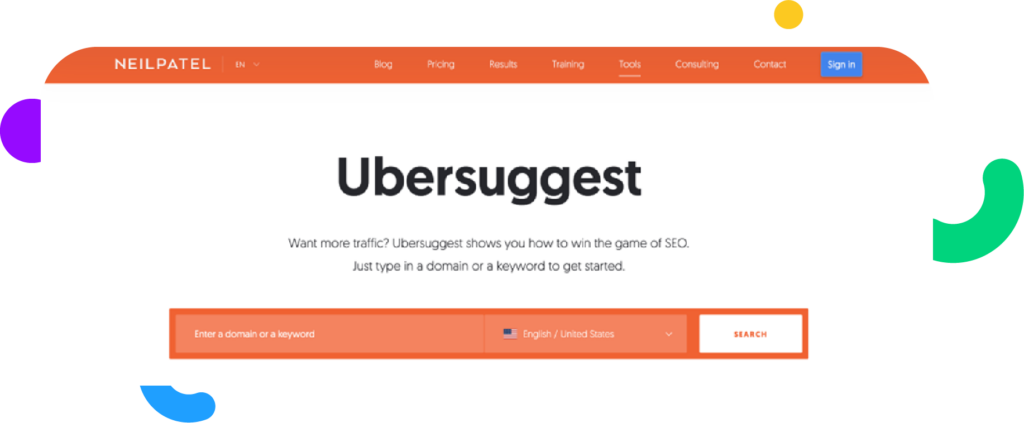 2. Add the keywords found to the metadata of your site
If you are using a content management system (CMS) such as WordPress, this task will be much easier. The metadata of a website is essential because it explains to the robots that collect information about websites on the Internet the content of your page and how often they should inspect it. The metadata consists of: 
– A visible link

– Meta title.

Maximum 60 characters

– Metadescription.

Maximum 150 characters
 
Let's look at an example:


As you can see in the image above, the metadata that is well composed has the keyword within the 3 metadata. For a search for the keyword 'English Online Courses' the first organic search result has a high search relevance to the page. Whether Google knows that we are relevant for certain types of searches is directly related to the metadata. Therefore, after having made the selection of keywords, displaying them transversely in the metadata of our page will allow us to have more traffic. Imagine having well positioned all the virtual courses you offer? You will double over time your students and why not, your income.
3. Optimizing the images of your online course website
These and other phrases, 'everything goes through the eyes' or 'a picture says more than a thousand words', are true and even more so when we talk about a website and the way we consume digital content today. Less text and more images is the perfect mix to make your audience fall in love. However, how can information gathering robots know the content of an image? The answer to this question leads us to the third basic SEO strategy to boost your online learning initiative: image optimization with the ALT attribute. 
What is the ALT attribute?
It is an HTML code tag that identifies the content of an image and above all, contextualizes your website. It is of high importance for the SEO of your page because it will give the  'Googlebots' important indications of the visual content you publish, so that when indexing your page within Google Images your site has presence in the results and thus gains traffic to your website. It is also a practice highly valued by search engines because it allows people who experience various forms of visual impairment through reading programs, to know the content of the images on your website and describe them. This is part of good accessibility practices and will give you an advantage over websites that have not yet deployed it. Let's see an example of images that have the ALT attribute and how they are indexed in Google: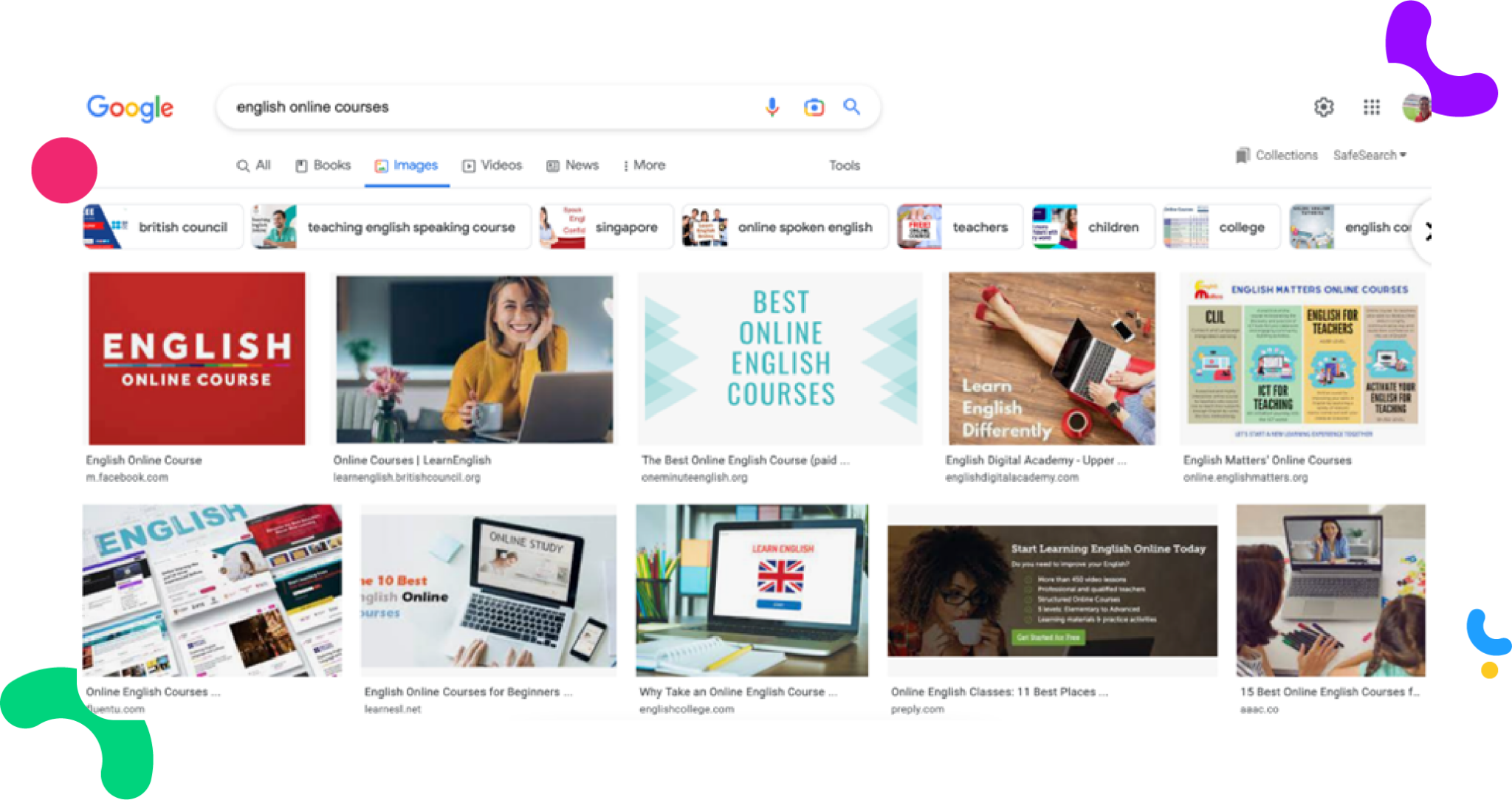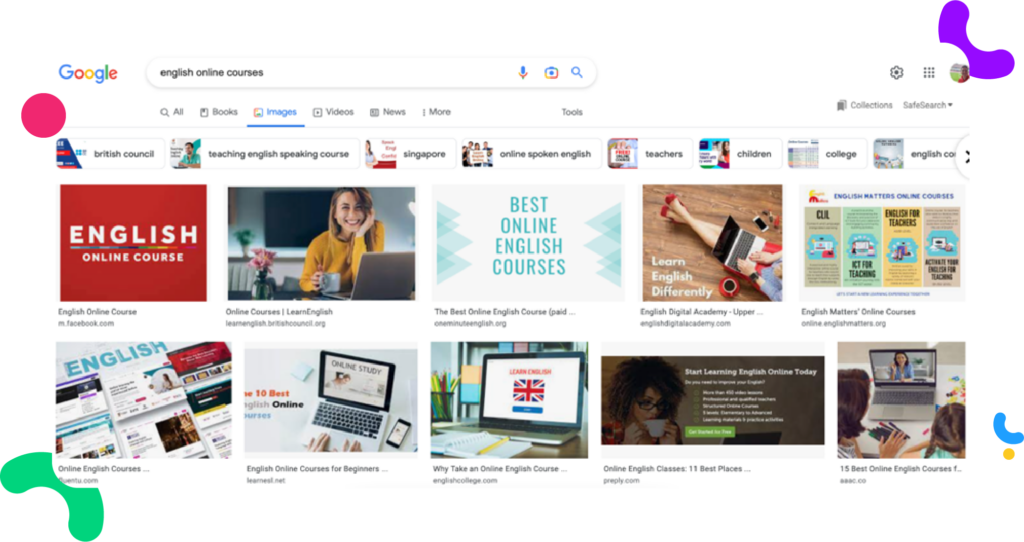 4. Indexing of your website and tracking
Now that you have your website with the basic SEO optimization necessary for your online learning initiative, great! Yet, there is one more thing you can do to have a greater impact on the Internet. It is necessary to tell Google that you exist. To make data-driven decisions, it is necessary that you also start measuring the result of the adjustments of the first three strategies, as your traffic can start moving at the moment you least imagine.
Note: you should keep in mind that you will need some help from your technology team or if you are the administrator of the website, you will need to have the necessary access to authenticate the domain in the applications that Google has provided for free to index content and measure it. 
To get started you are going to create an account in Google Analytics and another one in Google Search Console Tools. You only need to have a Gmail email to create an account in both applications. 
With Google Analytics you will start measuring traffic, see how our website behaves and measure the number of visits, the origin, the average time of a session, and many more metrics that will allow you over time to make important decisions about our website, while you have real data of our SEO optimization.
With Google Search Console Tools, you are going to tell Google that you exist. You will need to create two files and host them on our server. The name of these files are robots.txt and sitemap.xml. 
Let's talk a little about these two fundamental files for indexing:
What is the robots.txt file?
What is the sitemap.xml file?
The sitemap.xml file allows Google to access the index of pages that make up a website, its video files, images and other files on your website. This file will allow your website to be read more efficiently. For more information you can watch the following video:

Once you have uploaded the two files to your server, you will have real-time data of the behavior of your website, while with the help of these tools you can be aware of common errors such as error 404, among others, errors that can play against you when it comes to SEO.
In summary, through small but consistent SEO strategies you can start generating organic traffic to your online learning initiative, generating more visits that can become your next students, and why not, your next customers. With the proper use of SEO strategies you can have a greater number of views on the internet generating the impact you want.
We invite you to Blog section where you can find more information about the latest happenings in the e-learning market, Open edX tips and updates and more information about an LMS (Learning Management System) and how it can help in employee training.
Follow us on Social Media