Have you identified training needs in your institution or company and want to be the provider and manager of the courses that your users require? Do you see virtual training as a way to enhance the capabilities and skills of your team and colleagues? If so, you are in the right place to delve into this world of virtual training. If you have already delved into the vast world of online learning, I invite you to explore new ideas that will allow you to innovate in the creation of content.
Throughout history, education has focused on creating improved techniques and learning strategies, usually focused on in-person training. Situations such as the pandemic caused by COVID-19 have resulted in schools and universities being closed worldwide. According to the World Economic Forum, more than 1.2 billion students were out of the classroom due to the pandemic. All of this led to a drastic change in the way education is delivered, increasing the use of e-learning or online learning with the support of digital platforms.
While today, with vaccination and pandemic control processes, a certain level of normalcy has been reestablished, 95% of students said they were satisfied with online education and web-based learning. In fact, 49% of the student population stated that they had enrolled in an online course in the past 12 months, something that gives an overview of how virtuality has come to stay.
But what happens when I don't have the necessary experience to impart knowledge through virtual tools or my team doesn't have the technical and/or pedagogical capabilities to create content adapted to learning management systems (LMS)?
In this article, we will focus on simple steps for creating content adapted to virtuality. Many educational and corporate institutions continue to focus their efforts on traditional learning methods, not only in terms of in-person training, but also in terms of learning that evaluates the ability to memorize, rather than taking into account skills such as critical thinking and adaptability, elements that are becoming increasingly relevant in training and daily management of people.
Advantages of online learning
According to the Forbes LMS 101 report, online learning increases student retention rates by 25% to 60%. Commuting times, costs of in-person training, and dedication are all aspects that influence training in one way or another. Virtuality allows people with little time to still access training thanks to the flexibility of location and schedule, eliminating the pressure to study at certain times or have to go to a specific space. Even the virtual training system allows education to be globalized to study from anywhere in the world, without having to change countries and regardless of the time zone in which one resides.
Another advantage of virtuality is the possibility of creating content tailored to the user, that is, creating a unique learning experience for each user. Multiple studies speak of how each person learns at a different pace, and in in-person training, the teacher is forced to move on to the content even if some students clearly have difficulty learning at the same speed as their peers. However, virtuality eliminates this barrier and allows the content to be adaptable to each user; each person takes their own pace and can review as much as they consider necessary, or on the contrary, can advance faster if they wish to undertake an intensive training process. According to a study by Brandon Hall Group, it usually takes employees 40% to 60% less time to study material online than in a traditional classroom.
The benefits of e-learning are often focused on the student, or the end user, who will receive the training, but little is said about the teachers or content creators. By having the content in a digital format, the training process is automated; the presence of the teacher is not mandatory and takes on the role of tutor and facilitator. By using the same content for multiple students and different courses, production costs are reduced and there is also a benefit in terms of time, since now the system can grade and reward the student through scheduled tasks, which is important in the age of information, immediacy. Social networks and media have shown us that we can access things immediately, we can watch series a few minutes after they have been released, we watch live sports, and stream concerts. Before we needed days or weeks to know the results of a presidential election, and now it only takes a few hours, why not do the same with education?
It is essential to know how to select the type of course that best fits your business goals. The following are the most popular types of virtual courses.
As its name suggests, it is a pre-course that does not show all the content. An induction to the topic that allows the user to become interested in continuing their training.
When you have a considerable volume of courses on offer, this type of content will allow users to have a general view of the different content topic you offer. This can encourage greater participation and generate interest in different topics for the same user.
This mode can include a module in all its courses where you can provide useful information such as, for example, how to join the learning community and receive notifications of new courses or promotions.
They are similar to pre-sale courses, as they provide general ideas about different topics and allow the user to acquire certain knowledge in a reduced amount of time. They provide a summary of the teachings that could be covered in a more comprehensive course. Similarly, they can serve as a pilot plan for the development of a larger and more robust course, they can give a view of how the market welcomes this type of courses to know if it is justified to expand the content on that topic.
Any of these types of courses also allows you to collect information from users who are interested in a certain topic and about which you can create a focus group for sending advertising, promotions, news, among others.
Steps for developing content adapted to virtuality

Before creating any type of content, it is essential to define what we are going to talk about. It is recommended to choose a subject on which we have a high level of knowledge or access to specialists who will provide us with the information we require.
As Teachable says, "with an online course, you can make money by sharing your valuable skills and experience with others. A course can grow your community, expand your business, and earn respect in your niche."
We recommend you consider some questions that will help you focus on the topic that your course will be based on: Is there a topic in which you are an expert and for which you are asked for help or advice? Has this topic solved, or will it solve, a common problem that others may be struggling with?
It is ideal to ask ourselves at this point what we want to teach and why we want to do it. This information allows us to more effectively determine the content that must be included in our course. If we have too much information, it may be convenient to consider offering several courses to cover small themes separately.
An adequate way to predict the effectiveness of the course is to do a pre-launch, that is, to inform your audience that you will soon be offering a course on a certain topic. Observe the reception that your course can have and adjust if necessary.
2. Defining the target audience

An essential point in any content creation is identifying the target audience, that is, who our course is intended for. It is important to define the age range, the knowledge that these people may or may not have about the subject, among other factors.
In some scenarios, mainly corporate, the target audience is usually known beforehand, the collaborators or employees of a specific area of the company will be the ones who must take the course. However, knowing your target audience should not lead you to skip this step hurriedly. One must consider if all people have the same base of knowledge, the same use of technology or access to it, if they have any disability that could prevent them from normally developing the course.
When the target audience is not known beforehand and I want to "carry knowledge" to as many people as possible, one must be careful in how you will develop the topics and always keep in mind that the user may have basic or no knowledge about the subject. For cases where you want to monetize the course, this will be vital, as it will largely depend on how much you can attract users to generate new sales.
No question about your target audience is less important than others, as all of them allow you to build the profile of the user who will enter the course that is being built. Likewise, the target audience will determine the language to be used, how necessary it will be to include a glossary in my course, and even in which language it will be taught.
3. Define learning objectives
Most topics tend to be very broad and extensive, so it is ideal to delimit the information. A good recommendation is to consult online courses that are being offered on the subject you want to teach, identify the objectives of those courses, who it is directed to, how long it lasts, what content it presents, and even, in some cases, you may find the opinions of users who have already taken those courses and how much they recommend or do not do it. From there you can take a lot of relevant information for the development of your content.
In the age of information, you should start from the perception that the subject you are going to treat in the course, several people in the world are already teaching it. That's where the question arises, what will make your course different from others?
At this stage, it is suggested to carry out an analysis that allows you to identify a specific need, perhaps the need is being raised by a company that wants to teach a subject in a specific way to its work team, but in many other cases you must identify what your course can contribute that perhaps others offered on the network do not have. Consider the following aspects:
— Innovative content

— Multilingual course

— Accessibility

— Certification

— Course development time
A proper way to organize the ideas is to create the course menu; the main themes and those that are secondary or contained within another. This will give you a global vision of the course before building it and most likely identify the weak and strong points of your course in terms of content. If you feel that a theme does not contribute, do not hesitate to remove it from the syllabus or if, on the contrary, you find essential content, you are probably finding the focus of your course and, therefore, can define your learning objectives more clearly.
Compare the final menu obtained with similar courses offered by other providers and analyze, am I offering the same content as my competition? What is the differentiating factor of my course? If you feel that your course is not offering something catchy, take up the themes again and even, if you consider it, change the topic: you are building the draft of the course and you are still in time to modify the topic if you so consider.
Put each topic of your course in a logical order, organize into subtopics, and eliminate any that you consider generates noise within the content.
Proceed to create the course sheet. This should contain:
— An eye-catching title

— A brief description (no more than 100 words)

— The target audience

— The syllabus or index

— The duration of the course

— The time dedicated by the student (consider how long you expect your course to take, estimating that a course of approximately 40 hours takes about a month to complete)

— Description of the learning methodology. If it will be 100% virtual or will have a hybrid methodology where the user will have part of the training in person and another part will be done virtually, this is known as blended learning.

— The assigned teacher or teachers.

— Learning objectives: must be measurable. Keep in mind that the objectives will help in promoting the course and should be appealing to the users. THerefore,, it is recommended to generate the objectives using infinitive verbs.

— If your course is for monetization, it should include the details, price, and payment methods.
4. Fixing the course content—Outline

The planning of your course is important and the success of your course will largely depend on this step.
Before starting your research, design what you already know about the chosen topic using a brainstorming session on a piece of paper and write down each thought that comes to mind. In this stage of creating your online course, no idea is a bad idea!
In this stage, the structure of the course will be delimited and the content will be constructed. For training, this is known as an instructional plan which corresponds to turning the independent contents and collected information into an integral, organized, and user-friendly course.
Instructional design can be done in many ways, in this article we will focus on the ADDIE model which is a framework that lists the processes for building training tools: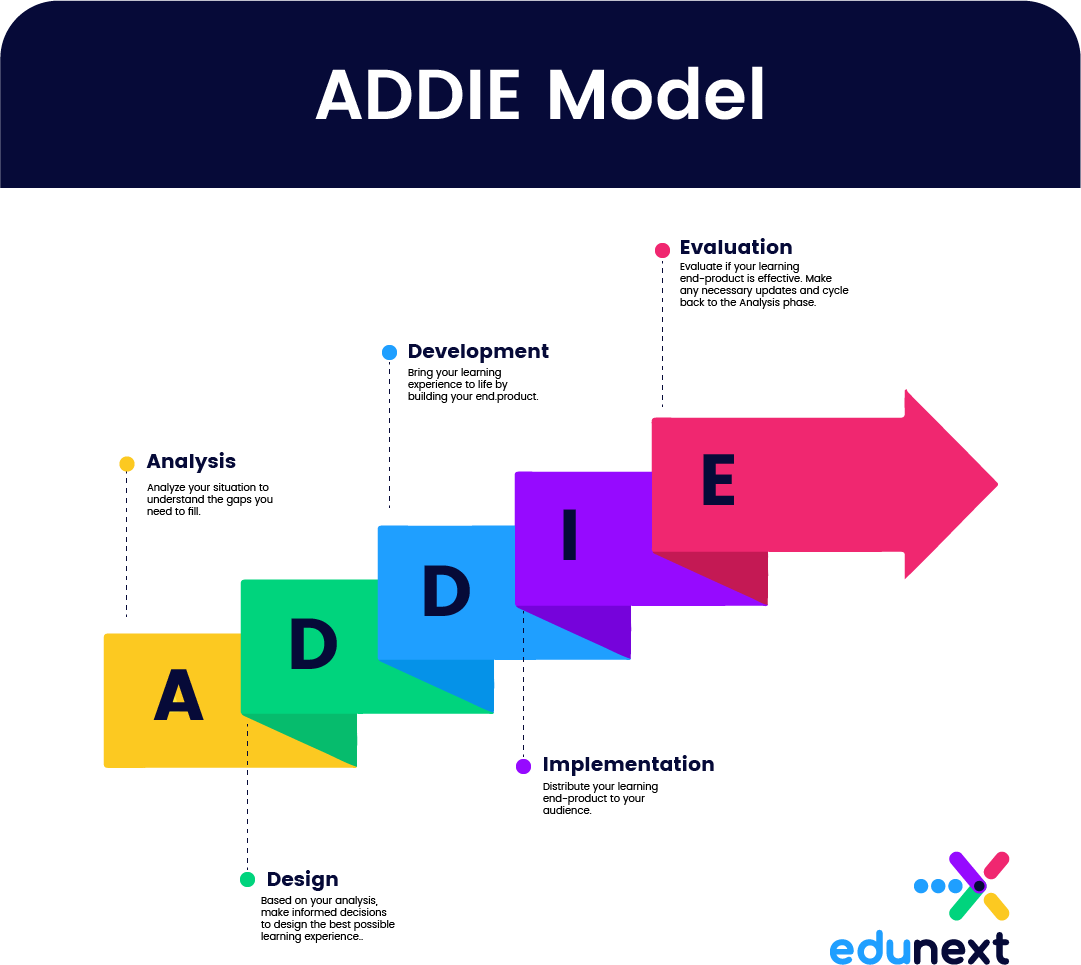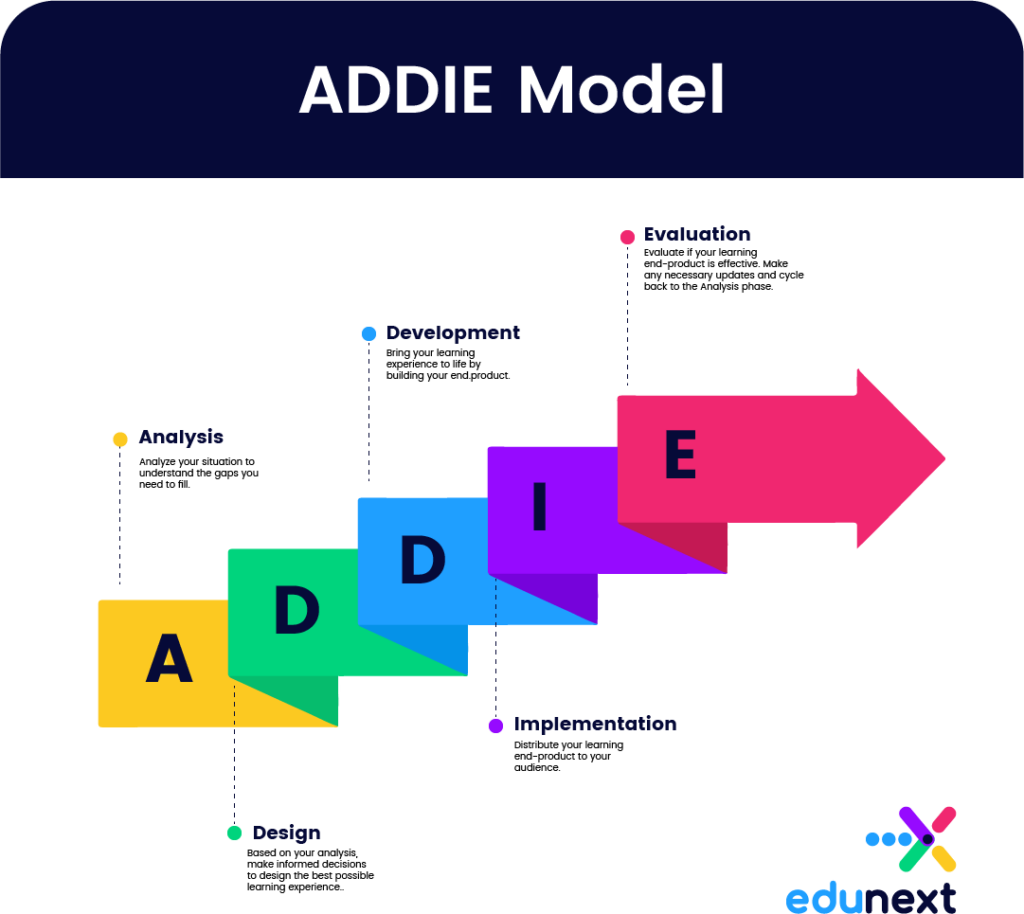 For the instructional plan, two phases must be considered. One technique corresponds to its structure (topics, subtopics) and another didactic which is linked to the pedagogical and multimedia materials, as well as the activities and evaluation processes.
It is recommended to create a script for the course. This means, for each of the themes, extract or have on hand the material that needs to be taught. In this part, we will review if there are themes that require more detail, if there is irrelevant content or if new themes must be added, as this is all the material that will be in our course, so it is important to be sure to include everything and stay within the development time of the course. For this latter, you can take the following reference: a Word sheet, with Arial 12 font and 1.5 line spacing, corresponds to 15 minutes of interactive content. Keep in mind that the user is not just going to read. They will have to review, retain the information and be evaluated on that knowledge.
Generate a list of the thematic contents along with the type of content that will be developed. Keep in mind that some themes can be complex, and it is easier to explain them in a video, others are more structured and could implement contents such as infographics or mind maps; this is the moment to show your creativity and not saturate the student with unnecessary information. Keep in mind, if a content seems boring to develop, it is very likely that it will be boring for the end user to study it.
5. Making the content interactive

With the defined structure, it is time to start developing each content. For everything, you should establish a title, and add a description, this will allow the user to know what type of information they will see.
There are many free tools for creating interactive content and whose elements can easily be brought to the LMS (Learning Management System):
There are many more tools, and it is important to be constantly exploring how to innovate with our content, but the listed ones are a good starting point. Similarly, each open source learning platform offers its own elements for uploading different content formats and displaying them to the student, as well as creating interactive and/or collaborative tools to motivate user participation.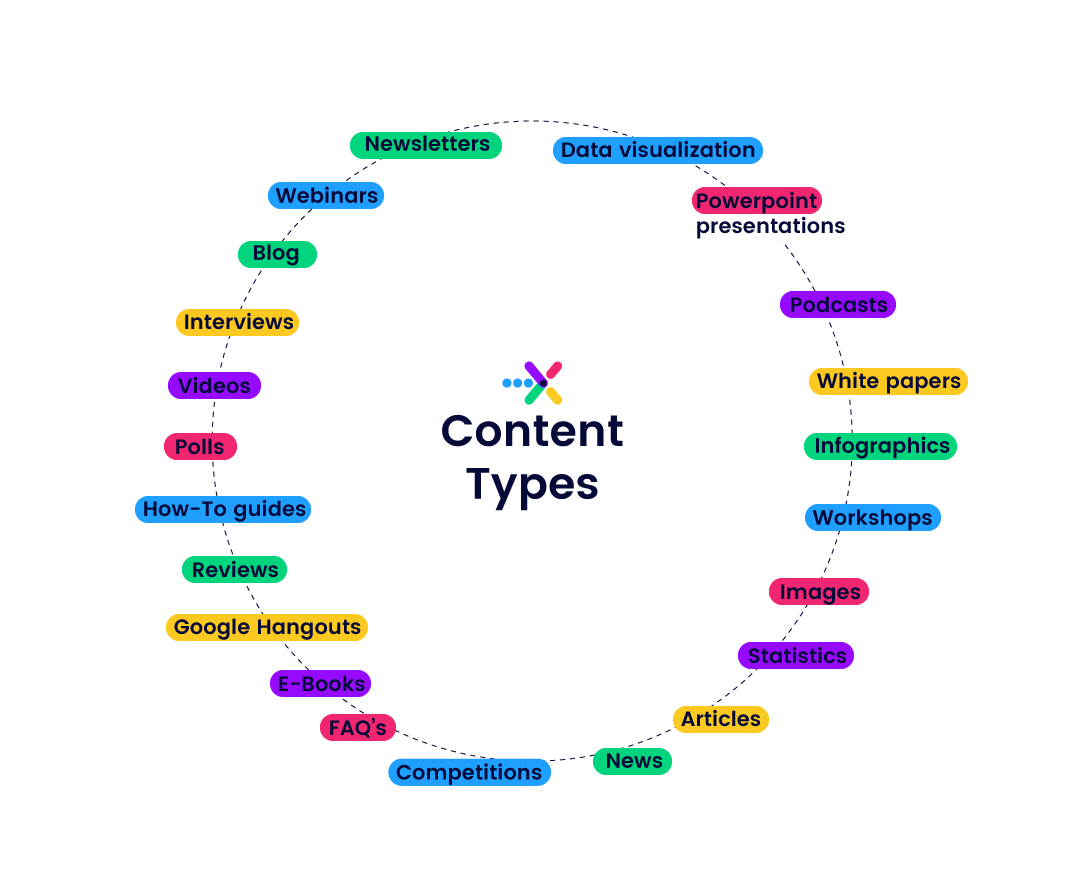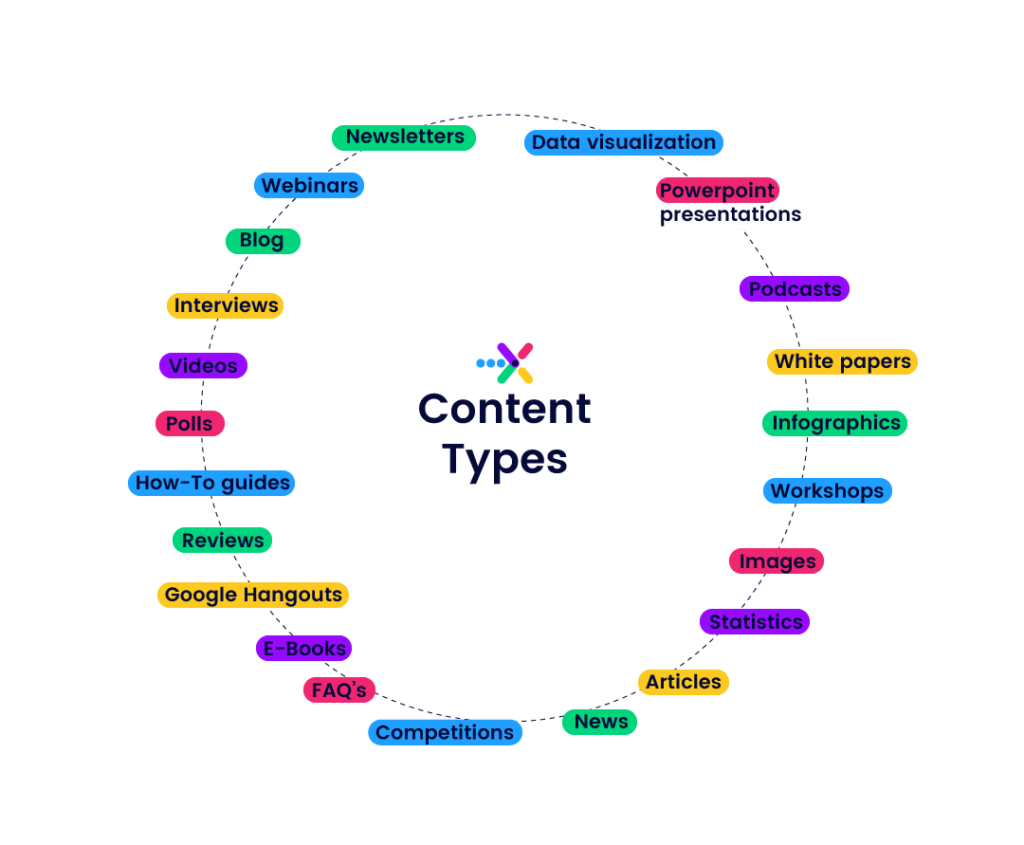 At this stage, you may start to see larger time frames as the construction of each content involves different tools and times. It is recommended to establish a schedule to meet the course launch on a specific date, this schedule may include among other things:
— Preproduction

— Writing content

— Elaboration of content

— Postproduction
However, this may vary depending on the type of course you are creating and the subject you are covering.
6. Uploading the content to the platform

The course design and navigation must be simple and clear. The content should be organized and clear titles and descriptions should be provided for the users. Do not forget to check technological aspects such as user connectivity and adaptive content, that is, try not to upload content that is too heavy that can be difficult to load with bad or intermittent connections. Also, consider the possible disabilities of the end users, this implies aspects such as adding a description to the images or having subtitles or scripts for the videos for consultation. Review the W3C accessibility standards.
It is important to consider evaluating the user. The way to measure the appropriation of content is through continuous evaluation. Determine how you will grade the user and include at least one evaluative element for each main thematic content, this information will also be relevant when updating the content.
The study materials should not be reduced to readings. The activities must be motivating to continue learning. Also, constantly evaluate the learning; allow the user to review what has been learned and prepare for the final test.
As a final recommendation, it is ideal for some people on your team to take the course, as this allows you to identify and adjust spelling, writing, configuration errors and identify areas for improvement.
7. Promoting and selling your course

Online courses are an adequate way to generate income and raise capital through marketing. However, this statement is true only if the courses meet the market demand and therefore have a target audience to focus on.
It may be difficult to find the right price for your course, but it is essential to find a balance between the offer you are giving and an affordable price for your target audience. It is suggested to review the costs of similar courses to be within a range that guarantees the reach of the defined audience.
As a general rule, smaller introductory courses or trial courses at a reduced price are recommended. In case of any doubt, it is better to set the prices and support them with promotions, discounts, or new course versions to adjust the price.
Keep in mind that it is also possible to generate free content that encourages users to make a purchase in the future. This involves having a free "demo" initial version of the course. Through this, you can motivate them to continue acquiring content, even if it has an additional established cost. This is known as creating customer loyalty, as the user knows the methodology and objectives and decides to continue with the purchase.
You are now ready to offer your course to the public. If you want to monetize it, you must set a price. For this, consider the following recommendations:
Define the currency in which you will charge: look for an international currency so that more users can access the course. It is usually more common to charge in dollars.

Payment options: allow users to have several options for financing their course, even more if they are credit options, as this will make it easier for people to access it, even if they do not have the money at the time of enrollment.

Create offers: be aware of when your course sells the most or create promotions on special dates, such as Black Friday, so that people are aware of the course to purchase it. You can do this through coupons or discounts.

Certify your course: a certified course sells more frequently than one that is not accredited. Programs based on competencies and focused on the skills most sought after in the professional field have the potential to revolutionize the way students are prepared for the workforce, as established by the

OBS report on e-learning

. If you offer certification supported by the name of your company, it will have more value and credibility.

Set a fair price: it is usual that after all the work involved in creating content, you consider a certain amount to charge for the course. Review similar courses in content and duration and seek a competitive price.

The success of any course in the medium and long term is how up-to-date the information is. New technologies have facilitated access to information, every day gigabytes of new content are generated. Therefore, if you are thinking of a course that is permanently offered to the public, you must establish a frequency for reviewing content, adjusting themes, seeing what should be removed and what new element should be included.
If you allow the content to become outdated, the number of users who register will decrease over time. Always remember that many other companies are creating content similar to yours and you must always find a way to stand out and ensure that your content remains current and of interest to the public. Even if you choose a theme that varies little over time, it is important to modify the multimedia content, to make it interesting and attractive to avoid monotony.
Also, always remember to update the evaluations, try to always evaluate knowledge in different and innovative ways. If you always use the same questions, users can easily find the answers, and what is sought is to make a conscientious evaluation to be able to really certify the person's learning.
Nowadays, companies have started to invest, rather than spend, the money allocated to the training of their human team; they are aware that they must generate "Open and friendly, collaborative network work spaces, where people feel comfortable and committed to develop and share their talent" (Fernández, 2009, p. 193)
With the current change and a pandemic that has forced us to virtuality, it is appropriate to question whether the adoption of online teaching will continue to gain ground and how this change can affect other types of training and the education market.
A point to consider is that the value of the e-learning computer infrastructure market is projected to grow from 2020 to 2025 by 164.560 million dollars, which shows the importance of entering an online training system that has a clear trend of growth and that has arrived to adapt to the new ways of transferring knowledge.
If you want to continue expanding the information on how to build your course or want to have a checklist guide to support your process, we invite you to consult this e-book by Edunext and Construct, two industry providers that can support the process of building training content and platform management.

References:
Fernández, Eva (2009). U-Learning El futuro está aquí. México. Alfaomega.
Learn How to Create your Own Courses in the Open edX Platform
Follow us on Social Media