Recently, I was talking to one of the professors who taught me at University, and he was telling me how interested he was in launching his first online course. However, he was worried not mainly about the content of the course or the LMS he would use, but because he had no idea how he would attract learners: one of the crucial points to consider if you want to succeed with your E-learning initiative. 
The way you communicate with potential learners is essential. You see, not all prospects and leads are the same. So as the popularity for the supply of online courses grows, learning how to manage marketing strategies in a way that these training spaces receive the right target audience is vital for short and long-term operations. Recognizing its importance, in this blog, we will share with you 5 of the best practices in digital marketing that focus on e-learning projects.
Having the plan to carry out online brand awareness, creating the right advertising and commercial strategy, defining clear KPIs, and tracking these actions is what we consider digital marketing. However, although there is a lot of talk about this topic, there are no magic recipes in marketing: each business has particularities that must be considered. Yet above all, you must learn to test and measure your marketing efforts to find the best results in your niche. For this reason, we will discuss the essentials that you should consider in your e-learning digital marketing strategy, but always remember to adjust it and measure according to your particularities.
1. Get to know your learners very well
Probably, when you designed the course you defined who your target audience would be since you know their characteristics and the reasons why they would buy your content. If you didn't do that before developing your course, it is essential that you do it now to better define your dissemination strategy. In marketing, we use the term 'buyer persona' to identify our perfect customer. However, here I prefer to call it 'Learner persona' since our efforts are focused on the profile of your ideal student.
Knowing your learner through a learner profile allows you to understand their needs, desires, and behaviors. This is critical because you will use this information to make decisions on how to reach them. Here is an example of a learner profile template that could be used to define your learner.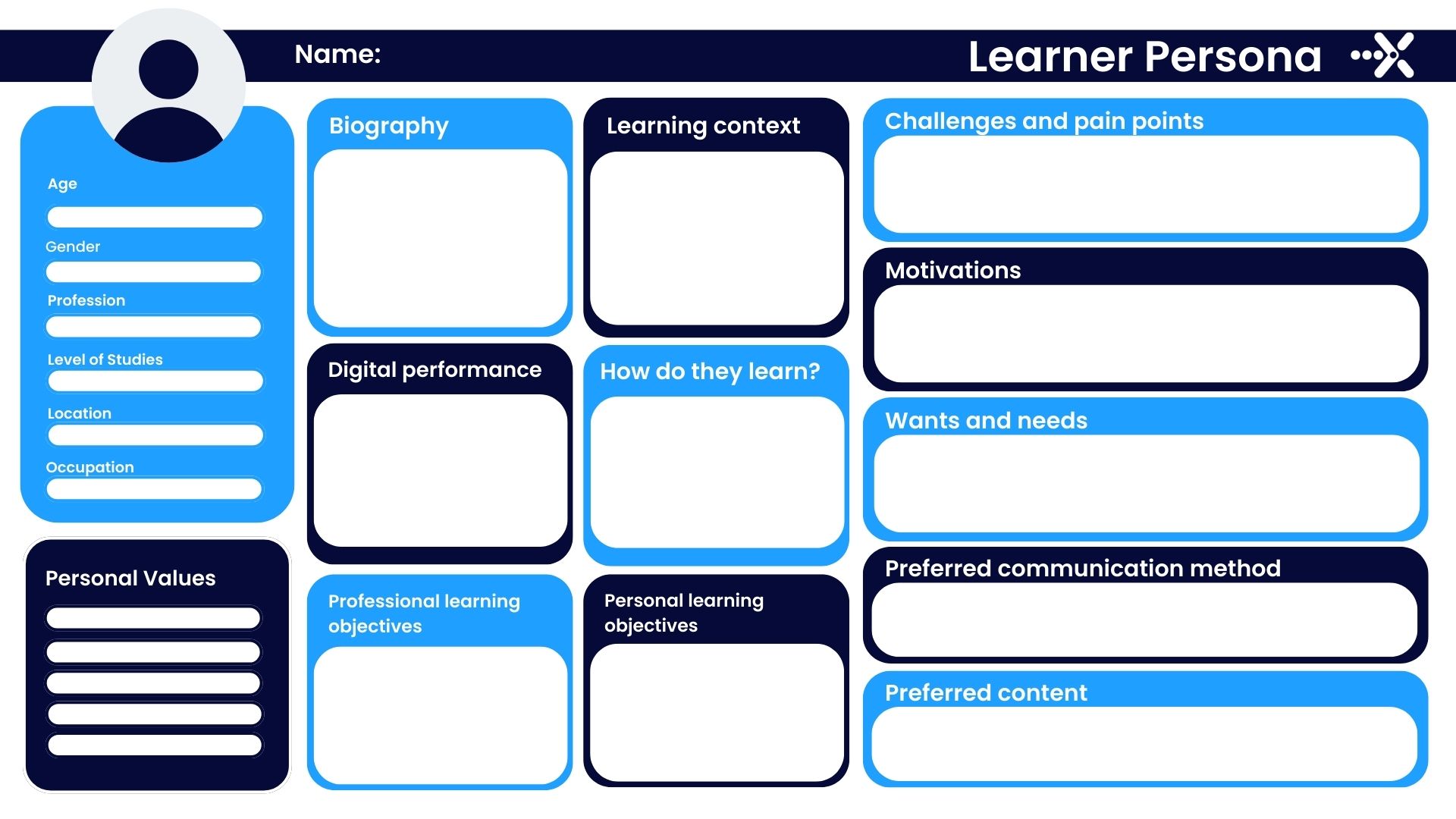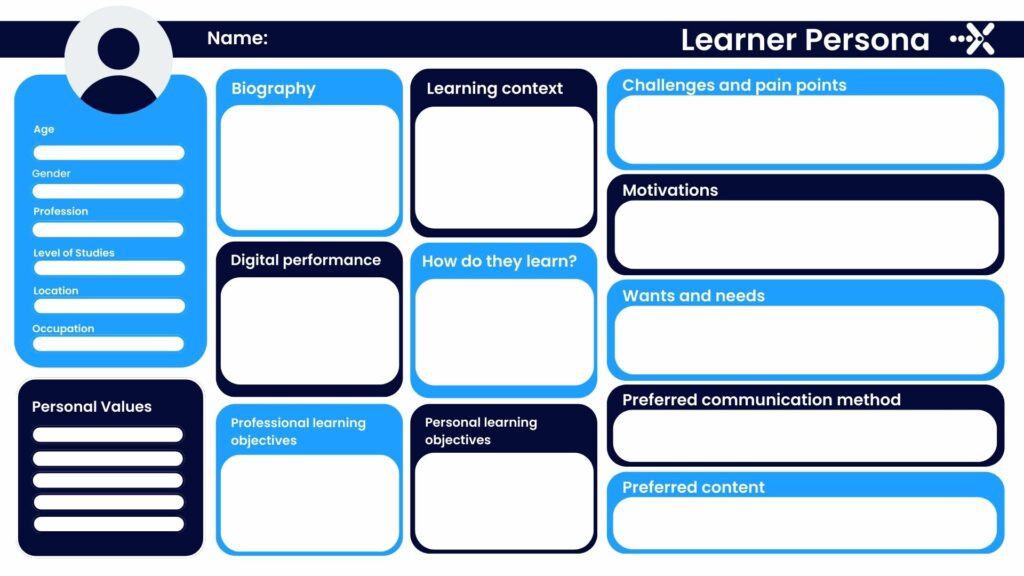 Based on the information from your learner's profile, you will have very useful insights to guide your decision making efforts.
– Which media will you use to talk to your learners?
– What needs do they have? 
– How can you show them that with your course, you will help them to meet those needs?
– How can you promote your course so that it becomes one of the "must have" courses on the learners list?
– What type of content will be most memorable to them?
– Where is this person? And, what is their age?
Web optimization can represent a competitive advantage. In a world, as digitalized as todays, where everyone is looking to innovate and make a difference, you have to stay active. 
To implement this practice, you must take into account the learner profile previously worked on, since you will optimize your web presence so that this person can find it and navigate it easily. To do this, you can:
– Implement SEO practices (choose the keywords your audience searches for the most).
– Distribute the content strategically. Design the sections that you want your students to find, such as Home, About us, Course catalog, Login, etc.
– Use good quality images.
– Make sure the loading speed of your page is appropriate for the user experience.
– Constantly incorporate content around your value proposition to your audience.
– Maintain a well-functioning e-learning marketplace.
3. Speak with pride about your differentials
As manifested in the E-learning Market Intelligence Report—Global Forecast 2027, "the global e-learning market is expected to reach USD $352,348.96 million by 2027 from USD $126,199.67 million in 2021, at a CAGR of 18.66% during the forecast period." (2022) Which is clear evidence that the size of the e-learning industry is getting bigger and bigger and full of offerings. There are thousands of online courses today, and making a difference early on is a good way to get attention. Make sure you are telling your value proposition in your communications and doing so strategically, taking into account the pain points and motivations of the learner's profile.
Many institutions talk about their value proposition referring to the accreditations they have, the experience of the professors in the area taught, the validity of their certificates, and even the opportunities to get better jobs after taking their courses. It is crucial that you determine what yours will be and include it in your media in a conscious and consistent way. 
4. Constant communication
Yes, constant communication is the basis of any strategy and is transversal to your entire initiative. Therefore, defining and knowing your communication media use will be fundamental to keeping your audience informed. This applies to both your current and potential students.
I recommend you always use email, not only because it is one of the most common media in the digital world, but also because it is one of the most profitable. According to Hubspot, as of 2020, email generates USD$36 for every dollar spent and is a must-have in every digital marketing strategy.
In your e-learning project, you can implement emails with valuable content such as
– To publicize the courses you are offering.
– Talking about your differentials and value proposition.
– Provide study tips for your students.
– Explaining topics of interest to your audience.
– Share news about your LMS or online course.
Whatever you send, try to establish the objective of creating this content, to define your recipients very well and to measure the results of the campaign to evaluate its performance and thus recognize aspects to improve or maintain in the future.
At the same time, it is important that you do not leave social networks out of your strategy and that you recognize that they are not just a trend: they are a fundamental part of any digital strategy. Today the reputation of brands is also built on social platforms and for this, keep in mind:
– Choose the networks that are most in line with your learner persona. Always consider Facebook, LinkedIn, YouTube, Instagram, Twitter, and TikTok. 
– Create engaging content for your audience.
– Address relevant topics that allow you to show authority and build trust.
– Maintain a visual communication thread, and note the tone you use to give your brand a personality and, thus, be easier to remember.
– Generate a content schedule that gives you consistency, and above all, the spirit of your brand. 
A hook is basically "something" that will capture people's attention and will be their purchase driver. Remember that people buy because there is an emotional link in the purchase decision: you bought that life insurance because you were worried about being able to take care of your family in case you were absent one day, or the last outfit because you wanted to look amazing, and you felt you needed it. In e-learning, it is not very different, people are looking for recognition, more income, opportunities for promotion, migration, becoming authorities in their areas of interest, etc… Surely, you will have a very clear focus on how to capture your learner's attention with a completed learner's profile. Therefore, you have to offer a hook that makes people want to take your course immediately. 
There are several common techniques used in the e-learning industry to engage your potential learner.
– Create previews of courses, so they see part of the content and methodology they will use if they purchase it.
– Offer discounts on some courses or course packages. However, if you adopt this strategy, remember to set a deadline, because people hate to lose something they already seem to have. Loss aversion is one of the most powerful marketing strategies if used accurately. 
– Provide free basic courses that encourage the audience to purchase more advanced ones. This is a recurrent technique, but you must be careful: the design of the free courses must make the user want to buy in order to obtain more information to perfect their knowledge. 
– Give something for the purchase of your course: a 2×1, an e-book, a voucher to use with a partner brand, etc. Make your user feel that there is more value in their purchase, besides the course.
So if you are working on creating, or further strengthening, the marketing strategy of your e-learning project, you can start by reviewing the best  practices discussed in this article. Remember: know your learners very well, optimize your website, talk proudly about your differentials, maintain constant communication with your audience, and implement an interesting hook. Take note, that one of the most important aspects of marketing is to understand that everything is constant testing and learning, putting into practice and verifying what works and what does not. 
Dare to try the best marketing practices in your online learning strategy, you won't regret it, and you will take your project to another level. See you there!
Follow us on Social Media