NAU is an exceptional online project that is pioneering the advancement of education and training at a national level in Portugal. It serves as a groundbreaking platform developed and managed by the FCCN Unit of the Foundation for Science and Technology (FCT). Its primary objective is to enable the creation of courses in the widely accessible MOOC (Massive Open Online Course) format. These courses, produced by esteemed and influential organizations, engage thousands of learners, providing an inclusive and open learning experience.
The Foundation for Science and Technology (FTC), as the central Portuguese governmental institution responsible for evaluating and funding scientific research activities, recognized the need to promote the spread of knowledge in various social matters. To address this challenge, they conceived an online educational initiative supported in Open edX that aimed at offering a diverse range of online courses focusing on social science subjects. However, one of the main hurdles they faced was the development of a multi-tenant platform installation with a unique infrastructure that required multiple custom developments to enable specific functionalities.
To overcome these challenges, the FTC team sought the expertise and proven track record of edunext in Open edX projects.
Collaborating with edunext,
The FTC successfully built and launched NAU
, an innovative online learning platform designed to provide Portuguese citizens with access to massive online courses
. The first phase of the project involved the installation of an Open edX multisite platform, supplemented by valuable services provided by edunext, such as Open edX Insights and the Course Discovery Service.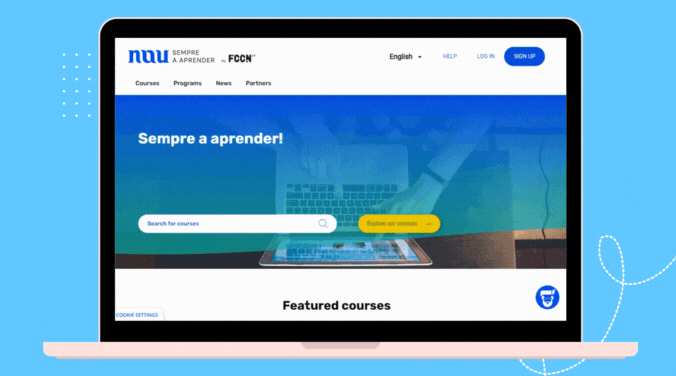 In a powerful collaboration with edunext, NAU has emerged as a crucial force in the Portuguese government's mission to disseminate knowledge and equip individuals with educational resources. This visionary initiative has yielded astounding results, with a remarkable increase of nearly 229,000 qualified professionals among Portuguese citizens who have eagerly embraced the courses offered.
Previously, individuals with limited access to education, now find themselves empowered through NAU's online platform. By seizing the opportunities provided by the diverse array of courses, participants have acquired new skills, expanded their knowledge, and unlocked previously unimagined career prospects. This transformation has reverberated across Portugal's workforce, catalyzing overall development and contributing to the nation's robust growth.

Thanks to the successful collaboration between the FTC and edunext, NAU has become a cornerstone of the educational landscape in Portugal, empowering individuals to overcome barriers to education and fostering a society that values continuous learning. The initiative stands as a shining example of how strategic partnerships and innovative platforms can drive positive societal change, ultimately leading to a more knowledgeable and prosperous nation.
NAU  represents a groundbreaking leap forward in educational accessibility, equipping individuals across Portugal with the tools they need to thrive in the digital age. By combining innovation, collaboration, and investment, NAU is driving a positive and lasting change in the educational landscape, empowering learners and nurturing a more knowledgeable and skilled society.
Follow us on Social Media