In a quest to revolutionize education and provide quality learning experiences to its students, the Benemérita Universidad Autónoma de Puebla (BUAP) in Puebla, Mexico, embarked on a massive online learning initiative. With the goal of supporting thousands of freshmen students, BUAP sought a scalable and innovative solution that could meet their requirements. After careful evaluation, BUAP chose the Open edX platform as the ideal tool, and edunext was selected as their trusted partner to implement this ambitious project, known as Scientia Genus.
BUAP faced the challenge of providing comprehensive assistance to 30,000 active learners for one academic term, with a focus on crucial subjects such as literature, writing, languages, math comprehension, and the faculty admission exam. The institution required a platform that could handle a high level of concurrency and bulk operations while delivering a seamless online learning experience.
Recognizing the capabilities of the Open edX platform, BUAP collaborated with edunext to implement Scientia Genus. Leveraging a cloud-based infrastructure, the platform was designed to scale with up to 150 application servers to accommodate the substantial demand. edunext's expertise and their management console complemented the functionalities of Open edX, ensuring a robust and efficient solution.
Through edunext's partnership and the adoption of Open edX, BUAP achieved remarkable outcomes. The Scientia Genus initiative empowered BUAP to provide innovative and engaging learning experiences to their student community, surpassing the challenges posed by the COVID-19 pandemic. By leveraging the Open edX platform, BUAP optimized their educational training methods and ensured uninterrupted access to high-quality education for their students.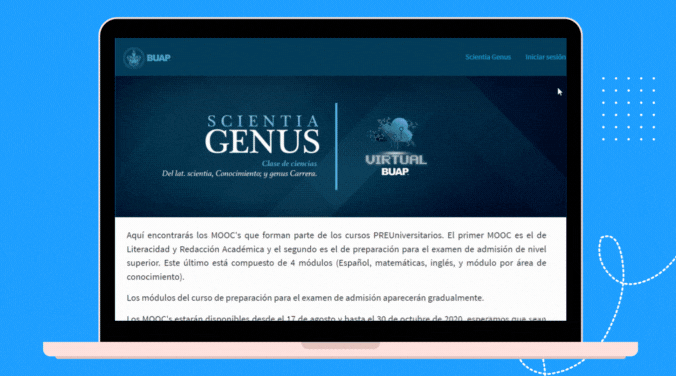 edunext takes pride in its contribution to BUAP's success story and remains committed to collaborating with institutions worldwide to drive innovation and enhance educational experiences. As a strategic partner in the EdTech industry, edunext is dedicated to empowering organizations with the transformative capabilities of Open edX and supporting the development of impactful educational projects.
Through the partnership between BUAP and edunext, the Scientia Genus initiative has paved the way for BUAP to achieve new academic heights. By harnessing the power of Open edX and edunext's expertise, BUAP has demonstrated its commitment to providing cutting-edge education and embracing innovative solutions in the ever-evolving landscape of online learning.
Follow us on Social Media